Rodney Square Conservancy
announces its premier project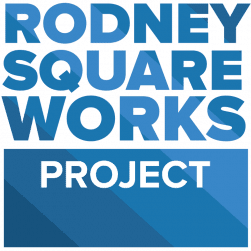 What's Ahead
Rodney Square Works is a phased public-private project led by the Rodney Square Conservancy (RSC) that involves a $6 to 8 million dollar renovation of Wilmington's iconic public space in the heart of the city. Some of the major changes coming include new tree planting, restored fountains, overlook terraces and much more!
History of Rodney Square
During the early 1910s, DuPont Company Vice President Pierre S. duPont developed a plan for Rodney Square that would transform the location to unify the entire surrounding area and buildings. The design of the Square was influenced by the "City Beautiful Movement," an urban planning movement led by architects, landscape architects and civic reformers at the turn of the 20th century to introduce more beauty in the urban landscape, thereby encouraging civic pride and engagement. Construction of the Square began in 1915 and was defined by the equestrian statue of Caesar Rodney created by James E. Kelly.
Donate
Whether you are a neighborhood resident or simply enjoy Rodney Square, the Conservancy needs everyone's support to keep this historic landmark looking great. Please consider becoming a Supporter.