Rodney Square Conservancy
announces its premier project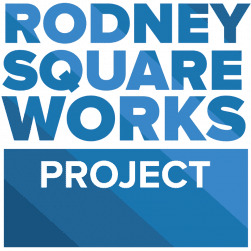 On Monday, September 9, 2019, the first ground was broken on the Rodney Square Works Project, which aims to renovate and preserve the historic landmark site in downtown Wilmington, Delaware. The groundbreaking was attended by local community leaders, such as Wilmington Mayor Mike Purzycki and Wilmington City Council President Dr. Hanifa Shabazz, and state leaders such as Governor John Carney and Delaware State Representative Stephanie T. Bolden.
The first set of renovations completed in 2019 included new features; new masonry and paving; upgraded benches and tables; more trees, shrubs, and lawn; and a splash fountain that has brought the sights and sounds of children playing to the park.
History of Rodney Square
During the early 1910s, DuPont Company Vice President Pierre S. duPont developed a plan for Rodney Square that would transform the location to unify the entire surrounding area and buildings. The design of the Square was influenced by the "City Beautiful Movement," an urban planning movement led by architects, landscape architects and civic reformers at the turn of the 20th century to introduce more beauty in the urban landscape, thereby encouraging civic pride and engagement. Construction of the Square began in 1915 and was defined by the equestrian statue of Caesar Rodney created by James E. Kelly.
Donate
Whether you are a neighborhood resident or simply enjoy Rodney Square, the Conservancy needs everyone's support to keep this historic landmark looking great. Please consider becoming a Supporter.