Who was Caesar Rodney?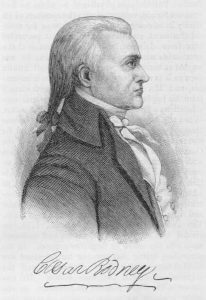 Caesar Rodney, a Delaware signer of the Declaration of Independence, was born east of Dover on October 7, 1728. Upon the death of his father in 1746, Rodney's guardianship was entrusted to Nicholas Ridgely, a clerk of Kent County. At age twenty-seven in 1755, he was elected Sheriff of Kent County. After serving three years, he was appointed to a series of positions including Register of Wills, Recorder of Deeds, Clerk of the Orphan's Court, Justice of the Peace, and judge in the lower courts. He served in the Delaware legislature from 1761 to 1776. Meanwhile, Rodney served in the Continental Congress along with Thomas McKean and George Read from 1774 through 1776. When he received word from McKean that he and Read were deadlocked on the vote for independence, Rodney rode 70 miles through a thunderstorm on the night of July 1, 1776, arriving in Philadelphia the next day to cast his vote in favor of the resolution. The wording of the Declaration of Independence was approved two days later; Rodney signed it on August 2.
In 1777, he commanded the Delaware militia, and the following year was elected president (governor) of the state. Rodney was elected by the Delaware General Assembly to the United States Congress in 1782 and 1783 but was unable to attend because of ill health. He suffered throughout his life with asthma, and his adult years were plagued by a facial cancer for which he often wore a green scarf to hide his disfigured face. The disease claimed his life on June 26, 1784. He is buried in an unmarked grave on his family's 800-acre farm east of Dover Air Force Base.
History
Today's Rodney Square evolved from a 1 ½ acre parcel of land bounded by West 10th, North Market, West 11th and North King Streets which was assembled from six separate parcels by the Borough of Wilmington between 1825 and 1832.
Wilmington's first water reservoir was situated in this block from 1827 to 1877. Also located on the site were the Water Department offices, a fire engine house and the City Engineer's office. Following the relocation of the reservoir to the Cool Spring area, the New Castle County Court House was built in the middle of this parcel, opening in 1881 and remaining until 1919.
During the early 1910s, DuPont Company Vice President Pierre S. duPont and his personal assistant John Jacob Raskob developed a master plan for the Square that would transform the location into the civic center of Wilmington, complete with open space and special features that would unify the entire surrounding area and buildings into a single scheme.
Rodney Square's design was influenced by the "City Beautiful Movement," an urban planning movement led by architects, landscape architects and civic reformers at the turn of the 20th century to improve social order by introducing more beauty in the urban landscape, thereby encouraging civic pride and engagement.
Construction of the Square (then called Rodney Square Park) began in 1915 and was completed in 1921. The defining symbol of the Square, the equestrian statue of Caesar Rodney created by James E. Kelly, was dedicated on July 4, 1923. The statue commemorates Rodney's ride from Dover to Philadelphia on July 1-2, 1776 to cast the deciding vote in the Continental Congress for independence from England.
Rodney Square and its four surrounding buildings (along with the Caesar Rodney statue and the Nemours Building) were all placed on the National Register of Historic Places in November 2011.
"It's time to restore this grand public square to not only its original glory, but to go beyond that vision to one that will improve the square and allow its upkeep to be more manageable while making the square itself more beautiful, attractive and useful."
Mike Purzycki, Wilmington Mayor
"This is an exciting opportunity to restore the Square to its historic role as a centerpiece of downtown Wilmington; as first constructed in the 1920s."
John Sisson, CEO of Delaware Transit Corporation
"Across Wilmington, we're making investments in neighborhoods, in city schools, and critical infrastructure to help make sure that all Wilmington residents see and feel the benefits of Wilmington's success."
Donate
Whether you are a neighborhood resident or simply enjoy Rodney Square, the Conservancy needs everyone's support to keep this historic landmark looking great. Please consider becoming a Supporter.